Curriculum
Our Curious Curriculum
A great curriculum will be rooted in its own locality and context and will meet the needs of its own learners, whilst exposing them to the national and global requirements and expectations.
Our Curious Curriculum has been carefully designed to engage learners as active participants in their learning journey. We believe that learners are at their most successful when their imagination is stimulated, their curiosity is heightened and their learning makes links to their lives and the wider world. Our curious curriculum is a framework that develops creativity, critical thinking and discovery whilst ensuring a clear focus on the intellectual concept that is being taught and the knowledge needed to understand said concept.
Working with a range of partners in education, our high expectations, innovative curriculum and distinct approach to learning are making a real difference. Stoke Lodge is a rapidly improving, outward-facing school that fosters enquiring minds and the spirit of curiosity.
"The curriculum can look good on paper, but it is when it meets the learner that matters most. It is the skill of the teacher in bringing it alive that determines whether the learner makes progress or not. This is why the link between curriculum and pedagogy needs to be strong at every point in the chain from planning to assessment."

Professor Mick Waters
Our Curriculum Aims
We will set high expectations and provide opportunities for all learners to achieve, responding to any learning needs.
We will offer learning experiences and environments that inspire learners to question the world around them, develop their ideas and grow as lifelong learners.
We commit to providing consistently high quality education based on current academic research and pedagogical principles.
Through a holistic approach, we will ensure the development of our learners' physical, social and emotional well-being. This will support their resilience and future life chances.
Pedagogical Principles
We will develop local, national and global knowledge and understanding by providing enriching experiences, developing global citizenship, celebrating diversity and creating cultural capital.
We will be proactive in removing barriers to learning, through early identification, effective intervention, improvement through partnership and raising aspirations.
We will provide a rich, multi-sensory environment that promotes, celebrates and provokes learning and reflects the importance of aesthetics and beauty.
As a Trust, we believe that a learner's experience in school should ensure not only the knowledge needed to access academic success, but also the careful development and progression of skills in discrete subject areas.
Our Curious Curriculum embeds a concept-driven approach that incorporates both knowledge and skills in an enquiry-led thematic curriculum that is embedded in application and context.
In teaching our Curious Curriculum, teachers draw upon a wide repertoire of teaching styles.
Whilst teaching our thematic enquiry-led curriculum, teachers use an appropriate range and combination of:
Direct Instruction
Teacher Exposition
Problem Solving
Purposeful Practice
Discovery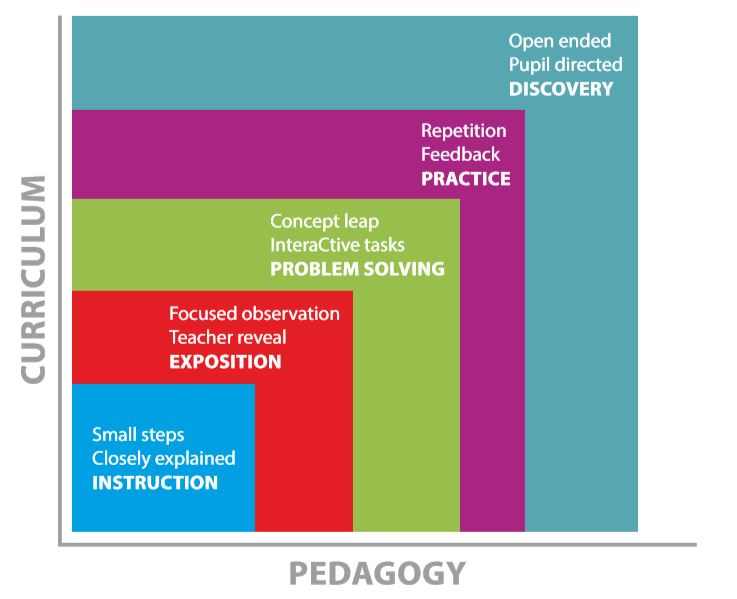 Responsible Global Citizens
The Curious Curriculum is based around developing a child's knowledge, skills, and attitudes, promoting enquiry and questioning. It encourages children to be active and to take responsibility for their learning whilst making them aware of how learning about intellectual concepts (big ideas) and links to the Sustainable Development Goals can impact on their own lives and the lives of others.
A theme consists of...
Intellectual Concepts
What do we want learners to understand?
Knowledge Box
What do we want learners to know? What are the key pieces of knowledge they must have in order to understand the Intellectual Concept? What vocabulary will they need to learn?
Box of Entitlement
What will every learner experience? How do we ensure equity for every learner?
Enquiry Questions
What do we want learners to wonder about? What are the bigger philosophical questions and ideas we want learners to think about? How do we encourage them to make links and connections to other pieces of learning that they have acquired? These should be 'un-Google-able' questions!
Polished Products
What skills will our staff teach across the theme to enable learners to showcase their learning through a polished product? A polished product could be a published piece of writing, a piece of Artwork, a presentation, a meal etc. There will be a polished product to showcase each enquiry question and learners will be encouraged to present this in their own way and with an element of choice as we encourage our pupils to be independent learners and follow their own interests and lines of enquiry.
Local to Global
What is the relevance to the learner and the wider world? How will this relate to the local and the wider world and how will this impact on our learners (linking learning to the Sustainable Development Goals)? We believe in helping our pupils to become responsible global citizens.